Editorial
Thinking Globally in the Pursuit of Individual Identity: Diversity, Equity, and Inclusion in the International Journal of Medical Students (IJMS)
---
Muhammad Romail Manan1, Kiera Liblik2, Francisco J. Barrera3, Ciara Egan4, Juan C. Puyana5, Francisco J. Bonilla-Escobar6


doi: http://dx.doi.org/10.5195/ijms.2022.1581


Volume 10, Number 2: 112-114


Inequity and inequality are pervasive in healthcare despite recent efforts to advance inclusivity and multiculturalism in research and practice.1 Diversity refers to "the recognition of the visible and invisible physical and social characteristics that make an individual or group of individuals different from one another, and by doing so, celebrating that difference as a source of strength for the community at large".2 Recent circumstances in global health, including those highlighted by the COVID-19 pandemic, have demonstrated societal insufficiencies concerning equity especially relating to the disease burden and health outcomes of black, indigenous, and people of color (BIPOC).3, 4 This systemic discrimination can hinder the accessibility of health services, compounding inequity. Following a set of predefined diversity, inclusion, and equity policies may aid in combatting these problems. Therefore, we need to reflect on our mandates and their development to foster an inclusive environment free from unfair circumstances and nourished by equitable access to opportunities, collectively embodying equity and equality.
Diversity promotes balanced perspectives with important insight from marginalized voices. Accordingly, diverse teams have enhanced problem-solving skills and innovation capacity, resulting in better work output and productivity with enhanced collaboration.5 Recruiting a diverse pool of individuals also provides inclusion of underrepresented groups. When pursuing competitive career paths in medicine, it is beneficial to have contributed to the scientific literature by serving on a journal's editorial team. Therefore, diversity may be highlighted as impacting individual as well as institutional growth. However, imbalance in the representation of groups of people (e.g., gender) is not an uncommon phenomenon, as journals have been demonstrated to foster increasingly homogenous editorial boards.6–9 The International Journal of Medical Students (IJMS), however, has a history of highlighting the achievements and research of a diverse pool of medical learners. The IJMS aims to elevate these promising upcoming leaders, promoting their voices regardless of their institution and sociodemographic background. The IJMS is free to submit to, publish in, and read - fully accessible at no cost. Furthermore, the IJMS strives to include contributors and editorial members from various countries in all global regions. In 2021 alone, the IJMS featured authors from 39 different countries. Additionally, our team represents over 60 different countries with people affiliated with institutions in all seven of the World Bank geographical regions (Figure 1) and all four of the World Bank country income groups. The IJMS is unique because it also features a student experiences section for medical learners who have had perspective-changing experiences in their field. In addition, there is a newly introduced option in 2022 to publish articles with a summary section in the author's language of origin to further increase visibility. Furthermore, the IJMS supports the global community of medical learners by taking an active stance on current issues such as the ongoing conflict in Ukraine,10, and climate change.11–13
Figure 1
International Journal of Medical Students Editorial Team Geographic Distribution by Country.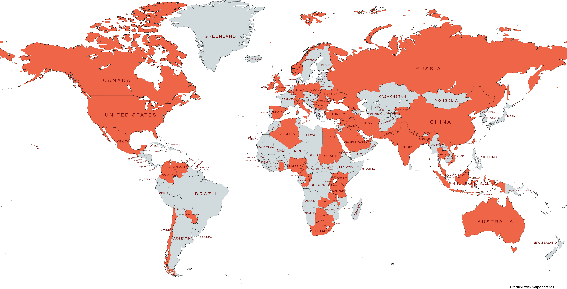 At IJMS, we strive to represent our community as a whole, and we believe in global and multicultural insight when publishing innovative solutions to problems concerning healthcare and publication biases. We find strength in our differences and acknowledge individuality with respect, equity, and inclusivity. Therefore, to materialize our vision, we have decided to proclaim our dedication to representing researchers regardless of their gender identity, sexual orientation, race/ethnicity, geography, career stage, religious beliefs, socioeconomic level, national origin, language, marital status, and political ideology. IJMS has demonstrated this by publishing on important issues relating to gender,3,14–16 culture,17–20, and ethnicity.21,22 Through our statement on diversity, equity, and inclusion (DEI), we take a positive step towards representing the underrepresented and welcoming researchers, editors, authors, ambassadors, and reviewers from various communities irrespective of the above-mentioned domains of diversity.
We have further formulated a Committee on Diversity, Equity, and Inclusion which will be tasked to improve the overall DEI status of the Journal by maintaining equity in the representation of researchers as well as in the availability of opportunities. Our priority with this implementation is to be transparent about our posture as a Journal regarding diversity and inclusion practices. We will do our best to maintain practices that reflect our statement and improve it as appropriate. Feedback and constructive discussion about this topic is relevant to us. We are open to this and will use it to initiate discussions and make iterations to our statement to improve our practices further, when and if appropriate. The role of students is particularly important in this aspect. Students can provide insightful feedback on issues pertaining to equity that they could be experiencing in their home countries and institutions. This can allow us to take a more comprehensive approach to our statement and direct us to incorporate views and perspectives that align with our objectives of adopting a worldwide inclusive practice of scientific publication and dissemination.
Principles of equity, diversity, and inclusion will continue to shape the navigation of the IJMS practices and, consequently, the perspective of our Editorial Team. We acknowledge the complexity of developing and implementing comprehensive practices of diversity and inclusion within our community, and hence, we are committed to longitudinally improving our approach as we develop further.23 We recognize that achieving a comprehensively diverse community requires continuous and dedicated effort. Therefore, we consider it our responsibility to ceaselessly work towards our vision of diversity, equity, and inclusion.
Conflict of Interest Statement & Funding
The Authors have no funding, financial relationships or conflicts of interest to disclose.
Author Contributions
The Authors have no conflicts of interest to disclose. Dr. Juan C. Puyana work is partially funded by the National Institute of Health (NIH) of the United States with the grant 5UG3HL151595. The opinions expressed in this article are the author's own and do not reflect the view of the National Institutes of Health, the Department of Health and Human Services, or the United States government.
References
1. Del Carmen MG, Rice LW. Underrepresentation of women in clinical trials: why gynecologic oncologists are worried. Obstet Gynecol. 2015;125(3): 616–9.
2. Rodriguez A. For whom do we do equity and social justice work? Recasting the discourse about the Other to effect transformative change. 2016.241-51.
3. MacArthur KR, Cox MJ, Egan C, Komer L. Pre-Existing Social Conditions: A Call to Prevent the Perpetuation of Gender Inequalities in Research Production during COVID-19. Int J Med Stud. 2020;8(3):217–9.
4. Krouse HJ. COVID-19 and the Widening Gap in Health Inequity. Otolaryngol Head Neck Surg. 2020;163(1):65–6.
5. Swartz TH, Palermo AS, Masur SK, Aberg JA. The Science and Value of Diversity: Closing the Gaps in Our Understanding of Inclusion and Diversity. J Infect Dis. 2019;220(Suppl 2):S33–s41.
6. Nafade V, Sen P, Pai M. Global health journals need to address equity, diversity and inclusion. BMJ Global Health. 2019;4(5): e002018.
7. Gallivan E, Arshad S, Skinner H, Burke JR, Young AL. Gender representation in editorial boards of international general surgery journals. BJS Open. 2021;5(2).
8. Palser ER, Lazerwitz M, Fotopoulou A. Gender and geographical disparity in editorial boards of journals in psychology and neuroscience. Nat Neurosci. 2022;25(3):272–9.
9. Anaesthesia Journal Editorial Board Diversity and Representation Study Group. Trends in country and gender representation on editorial boards in anaesthesia journals: a pooled cross-sectional analysis. Anaesth Rep. 2022. 5 May 2022.
10. Srichawla BS, Khazeei Tabari MA, Găman M-A, Muñoz-Valencia A, Bonilla-Escobar FJ. War on Ukraine: Impact on Ukrainian Medical Students. Int J Med Stud. 2022;10(1):15–7.
11. Laybourn-Langton L, Smith R. COP26 and Health: Some Progress, But Too Slow and Not Enough: The Health Community Must Step Up Its Efforts to Hold Countries Accountable for Reducing Greenhouse Emissions and Promoting Adaptation. Int J Med Stud. 2022;9(4):255–6.
12. Cox MJ, Shah PC, Komer L, Manan MR, Kutikuppala LVS, Liu B. A Call for Action—Empowering Medical Students to Facilitate Change. Int J Med Stud. 2021;9(3):187–8.
13. Atwoli L, Baqui AH, Benfield T, Bosurgi R, Godlee F, Hancocks S, et al. Call for Emergency Action to Limit Global Temperature Increases, Restore Biodiversity, and Protect Health: Wealthy Nations Must Do Much More, Much Faster. Int J Med Stud. 2021;9(3):189–91.
14. Jezzini-Martinez S, Gonzalez-Cruz DC. Gender Bias and Stereotypes in Medicine: A Medical Student Experience. Int J Med Stud. 2022;9(4):310–1.
15. Bonasia KL, Morgan A, Solomon CG, Damiano EAJIJoMS. Assessing Medical Students' Self-Perceived Preparedness to Care for Gender Diverse Patients: A Survey Study. 2022;10(1):63–8.
16. Campos LN, Riaz MMA, Tatere HY, Nassour N, Patil D, Drejza M, et al. Raising Gender Equity Voices: Reflections from an International Virtual Assembly in Global Surgery. Int J Med Stud. 2022;9(4):307–9.
17. Rondilla NA, Rocha ICN, Roque SJ, Lu RM, Apolinar NLB, Solaiman-Balt AA, et al. Folk Medicine in the Philippines: A Phenomenological Study of Health-Seeking Individuals. Int J Med Stud. 2021;9(1):25–32.
18. Norris K-G, Noonan C, Ying R, Kenney CT, Huang J, Lubor B, et al. Teaching Cultural Competency through Global Health Education at Weill Cornell Medicine. Int J Med Stud. 2020;8(1):15–9.
19. Tan N, Li S. Multiculturalism in Healthcare: A Review of Current Research into Diversity Found in the Healthcare Professional Population and the Patient Population. Int J Med Stud. 2016;4(3):112–9.
20. Diebel SR. Cultural Placement: My Experience In A Remote Fly-in Indigenous Community In Northern Ontario, Canada. Int J Med Stud. 2021;9(1):86–7.
21. Johnson M, Seide W, Green-Dixon A, Randall V. Black Students' Perception of Belonging: A Focus Group Approach with Black Students at the Uniformed Services University of the Health Sciences. Int J Med Stud. 2021;9(2):124–8.
22. Rector D, Nowlen M. Learning from Hispanic Mentees: A Reflection on Cultural and Socioeconomic Differences. Int J Med Stud. 2021;9(1):73–4.
23. Mujanovic A, Kipkorir V, Mercalli C, Dhali A, Shah P, Velandia C, et al. The IJMS World Conference of Medical Student Research and an Overview of the IJMS Volume 10 Issue 2. Int J Med Stud. 2022;10(2):115–8.
---
Muhammad Romail Manan, 1 Medical Student. Services Institute of Medical Sciences, Lahore, Pakistan. Student Editor, IJMS.
Kiera Liblik, 2 BSc. MSc. Faculty of Medicine, Queen's University, Kingston, ON, Canada. Associate Editor, IJMS.
Francisco J. Barrera, 3 MD. SM. Department of Epidemiology, Harvard "TH Chan" School of Public Health, Harvard University, Boston, MA, USA. Associate Editor, IJMS.
Ciara Egan, 4 Medical Student. Humanitas University, Humanitas Research Hospital, Milan, Italy. Deputy Editor, IJMS.
Juan C. Puyana, 5 MD, FRCSC, FACS, FACCP. School of Medicine, Department of Surgery, Professor of Surgery, Critical Care Medicine, and Clinical Translational Science, Director for Global Health-Surgery, University of Pittsburgh, Pittsburgh, PA, United States. Editorial Board Member, IJMS.
Francisco J. Bonilla-Escobar, 6 MD, MSc, PhD(c). Researcher, Department of Ophthalmology; Institute for Clinical Research Education (ICRE), University of Pittsburgh, Pittsburgh, PA, United States. CEO, Fundación Somos Ciencia al Servicio de la Comunidad, Fundación SCISCO/Science to Serve the Community Foundation, SCISCO Foundation, Cali, Colombia. Grupo de investigación en Visión y Salud Ocular, VISOC, Universidad del Valle, Cali, Colombia. Editor in Chief, IJMS.
Correspondence: Muhammad Romail Manan, Address: G8QM+JWR, Jail Road, Shadman 1 Shadman, Lahore, Punjab, Pakistan. Email: romailmanan1@gmail.com
Cite as: Manan MR, Liblik K, Barrera FJ, Egan C, Puyana JC, Bonilla-Escobar FJ. Thinking Globally in the Pursuit of Individual Identity: Diversity, Equity, and Inclusion in the International Journal of Medical Students (IJMS). Int J Med Stud. 2022 Apr-Jun;10(2):112-4.
---
Copyright © 2022 Muhammad Romail Manan, Kiera Liblik, Francisco J. Barrera, Ciara Egan, Juan C. Puyana, Francisco J. Bonilla-Escobar
This work is licensed under a Creative Commons Attribution 4.0 International License.
---
---
International Journal of Medical Students, VOLUME 10, NUMBER 2, June 2022