Experience
E-Da Hospital Summer Clerkship: My Path to Belize's First M.D. Ph.D Neurosurgeon
---
Paul Marcel Morgan1


doi: http://dx.doi.org/10.5195/ijms.2017.20


Volume 5, Number 3: 107-109
Received 31 07 2017: Accepted 15 08 2017

The Experience
My journey began in Belize, my native country. As recently as 2016, Belize had only 250 licensed medical doctors, of whom less than twenty were trained in a medical specialty.1 This physician shortage is largely due to the lack of a medical school. Realizing a need for trained specialists, I travelled to Taiwan in 2016 to pursue a four-year post-baccalaureate Doctor of Medicine Degree at l-Shou University School of Medicine for International Students.
Figure 1.
E-Da Hospital, I-Shou University School of Medicine for International Students.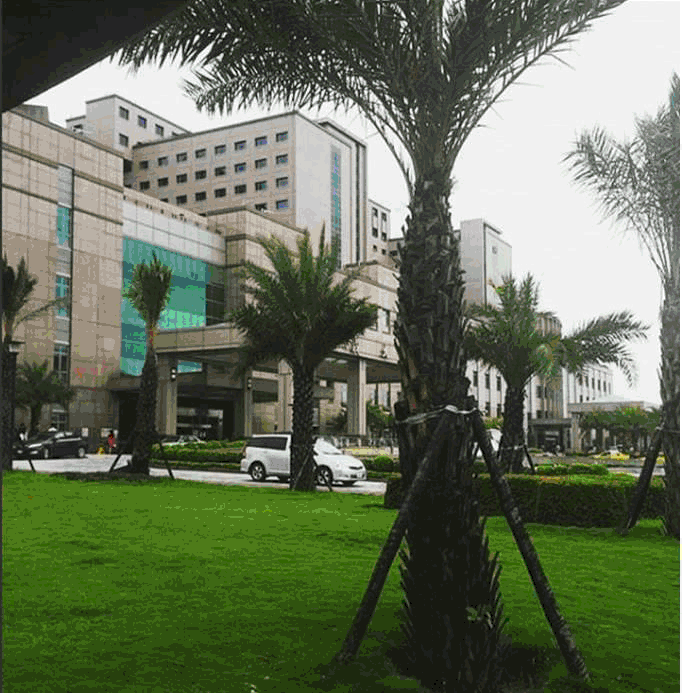 Since I was a child, I have always been fascinated by the complexity of the human brain. That passion and intrigue compelled me to seek opportunities in neurosurgery. An opportunity came during my second year as a medical student, when I was offered a two-week clerkship in the department of neurosurgery at E-Da Hospital. As this clerkship was an invaluable experience, I would like to share it.
A typical day of my clerkship would begin in the hospital, at 6:45 a.m. Prior to my meeting with my attending, I would prepare for the day by reviewing and chart checking my attending's patient list.
Figure 2.
Professor Kang, Lu (left) and I (right) at the end of a three-hour microdicectomy procedure.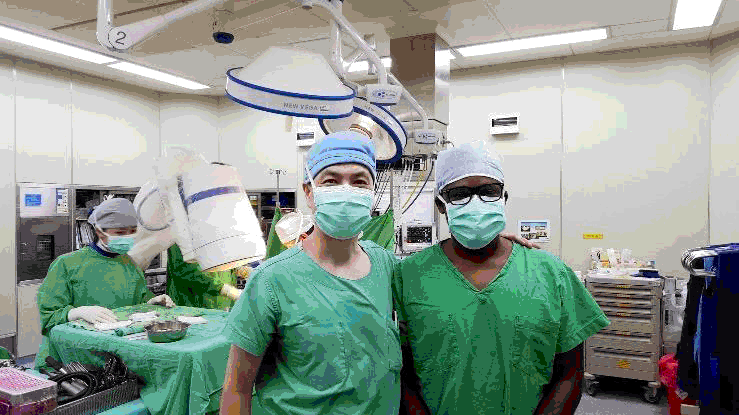 At 7:00 am, I would join my attending physician. Professor Kang Lu (Chief of Neurosurgery at E-Da Hospital), his resident trainees, and three other medical students for ward rounds. During this activity, we would round on between six and eight patients for approximately ten minutes each. Each consultation involved changing bandages, cleaning sutures, localized debridement, or locating the site of incision for the day's upcoming surgical procedure.
Following ward rounds, I would attend a one-hour meeting with all in-house neurosurgeons, residents, interns, and medical students to discuss postoperative issues of earlier cases and upcoming surgical cases. Thereafter, I would participate in either the outpatient clinic (Wednesday and Friday) or scrub into surgery (Monday, Tuesday and Thursday).
During the outpatient clinic, my attending physician would diagnose and evaluate new patients to determine if they were suitable candidates for surgery. A patient's assessment always started with a thorough history and a neurological examination. Imaging studies would be ordered for patients only when necessary. Our treatment scope included spinal disorders, brain tumors, skull base tumors, cerebrovascular diseases, brain injury and spinal injury.
On surgery days I would participate in up to four surgical procedures. Over the course of my clerkship, I observed and participated in a wide array of surgical procedures including: laminectomies, discectomies, kyphoplasties, cervical disc anthroplasties, ventriculoperitoneal (VP) shunt placements, and resection of brain meningiomas. The surgical procedure that resonated with me was the partial resection of a right-sided cavernous sinus meningioma which I will now further detail.
A 47-year-old female presented to our clinic with complaints of a two-week history of progressively severe bouts of right temporal headaches spanning a one-year period as well as numbness on the right side of her tongue, right facial pain, weakness in the left leg, visual field reductions bilaterally, diplopia and dizziness. On physical exam, her findings were multiple cranial nerve deficits (II, III, IV, V, VI), leading to decreased vision and diplopia with associated facial numbness.
The patient's chief complaints and our physical examination alluded to the presence of a possible brain lesion. My attending physician therefore ordered a computerized tomography (CT) and magnetic resonance imaging (MRI) for verification, and determination of potential size and location of the lesion. The outcome of our diagnosis was a 4 centimeter right-sided tumor inside the cavernous sinus suggestive of a meningioma. A meningioma is a tumor that arises from a layer of tissue that covers the brain and spine.2
Due to the size and location of the lesion, my attending physician planned a resection utilizing an extradural surgical approach. Under general anesthesia, the patient was placed supine with her head turned to the left side in three-point fixation. A scalp incision was made at the right fronto-temporal area and was reflected creating a skull flap. The outer portion of the sphenoid ridge was resected with rongeurs and burrs. Subsequently, the middle meningeal artery was cauterized and divided near the foramen spinosum as well as was the anterior clinoid process. The dura of the frontal and temporal lobes was lifted with retaining sutures then an operative microscope was introduced.
The dura covering the cavernous sinus was incised allowing access to brain parenchyma. The trigeminal nerve was pushed by the tumor superiorly and medially. Next, branches of the trigeminal nerve were retracted gently for more exposure of the tumor. Due to massive extensive involvement of the tumor, subtotal removal of the tumor was performed in order to avoid detriment to the internal carotid arteries and cranial nerves. The margin of resection was classified as R2, a macroscopic positive margin.3 The internal carotid artery and cranial nerves III, IV and VI were not violated. Bleeding from the venous sinus was stopped with a floseal. The skull was replaced and fixed with the miniplates. The wound was closed in layers with a draining catheter. The patient was sent to the ICU for further observation.
What struck me the most about this case was the compromise between good functional outcome and the extent of resection. This was the key to the successful outcome of this surgery.2 Postoperative evaluation revealed isocoric pupils in response to a light reflex. The gait function was normal. There was no facial weakness or DTR (deep tendon reflex), and the EOM (extraocular muscle) was functional and full. However, signs of ptosis were observed with the left upper eyelids. Gamma knife radiosurgery was therefore scheduled for a later date to remove the residual tumor.
Resulting from this case I appreciated the direct relationship between neuroanatomy, surgical approach, physical examination, pathology and post-operative recovery and prognosis. As a second-year medical student, I was able to relate and apply many of the theoretical concepts from my first year in medical school.
The experience has illuminated my path towards Neurosurgery specialization. This knowledge I intend to utilize in service of Belize. My personal career aspirations include: completing my MD at l-Shou University and completing a PhD in structural biology before returning home. In serving my country, I aim to spearhead the development of Belize's first college of medicine.
Figure 3.
Lateral view of cervical spine after installation of an artificial cervical disc.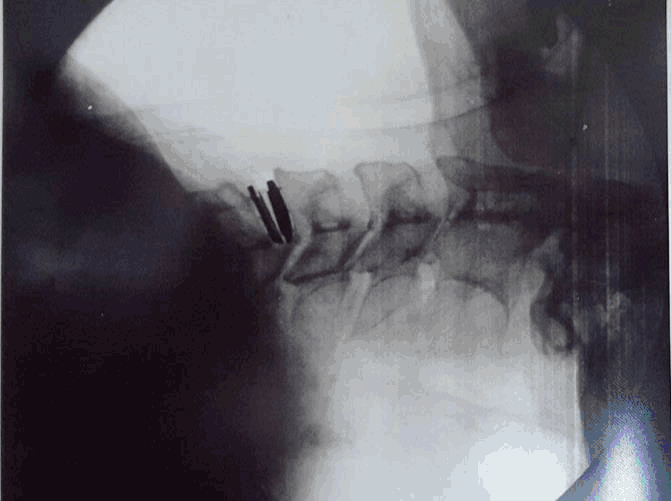 Figure 4.
Myself (left) and my colleague 李長鴻 [Chris Lee] (right), a third-year Medical student, on the last day of our rotation in the department of neurosurgery.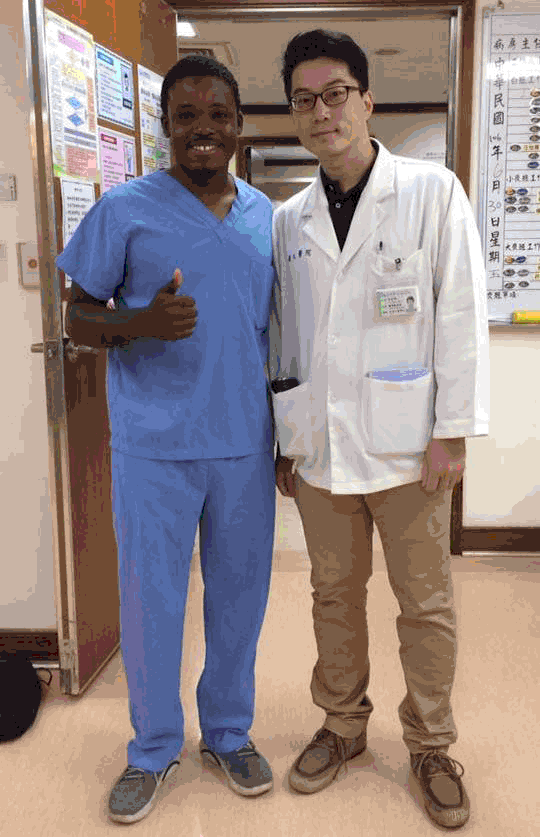 Acknowledgments
The author would like to thank Professor Kang Lu and E-Da Hospital for the neurosurgery clerkship opportunity.
Conflict of Interest Statement & Funding
The Authors have no funding, financial relationships or conflicts of interest to disclose.
Author Contributions
Conception and design the work/idea, Write the manuscript: PMM.
References
1.Government of Belize BG. Belize Basic Indicators 2015. 2015; 8.
2.Javalkar V, Banerjee AD, Nanda A. Posterior Cranial Fossa Meningiomas. I Neurol Surg B Skull Base. 2012 Feb;73(1):1–10.
3.Walcott BP, Nahed BV, Brastianos PK, Loeffler JS. Radiation Treatment for WHO Grade II and III Meningiomas. Frontiers in Oncology. Front Oncol. 2013 Sep 23:227.
4.Cole T, Veeravagu A, Zhang M, Azad T, Swinney C, Li GH, . Retrosigmoid Versus Translabyrinthine Approach for Acoustic Neuroma Resection: An Assessment of Complications and Payments in a Longitudinal Administrative Database. Cureus. 2015 Oct 30:7(10):e360.
---
Paul Marcel Morgan, 1 School of Medicine for International Students, I-Shou University, Kaohsiung, Taiwan
About the Author: Paul Morgan is currently a second-year medical student in the jour-year post baccalaureate medical program at I-Shou University School of Medicine for International Students. Paul is also a PhD candidate in structural biology at Oklahoma State University.
Correspondence: Paul Marcel Morgan, Address: No. 1, Section 1, Xuecheng Road, Dashu District, Kaohsiung City, Taiwan 840 Email: buddymorgan@gmail.com
Cite as: Morgan PM. E-Da Hospital Summer Clerkship: My Path to Belize's First M.D. Ph.D Neurosurgeon. Int J Med Students. 2017;5(3):107-109.
---
Copyright © 2017 Paul Marcel Morgan
---
---
International Journal of Medical Students, VOLUME 5, NUMBER 3, December 2017