Experience
How Medical Students Edited an OSCE Study Guide and Why Should You?
---
Mathieu Allard1, Alexandre Lafleur2, Elizabeth Richard1, Annick Lebouthillier1, Cédric Vailles1


doi: http://dx.doi.org/10.5195/ijms.2018.248


Volume 6, Number 2: 78-82
Received 28 04 2018: Accepted 09 05 2018

The Experience
Since 2010, our group of medical students has been involved, as part of our extra-curricular activities, in designing and sharing resources to learn clinical skills in preparation for objective structured clinical examinations (OSCEs) and clinical rotations.1 In order to address the challenge that OSCEs represent early in our medical training, we publish this year the second edition of a 450-pages OSCE study guide to help medical students learn hypothesis-driven clinical examination (Figure 1).2 With quality books on OSCEs already published, you might wonder why medical students should invest their time and energy in this colossal project, and how to do so?
Figure 1.
Cover Page of the Petit Guide des Habiletés Cliniques 2nd Edition (in French), an OSCE Study Guide Entirely Written and Edited by Medical Students of Laval University.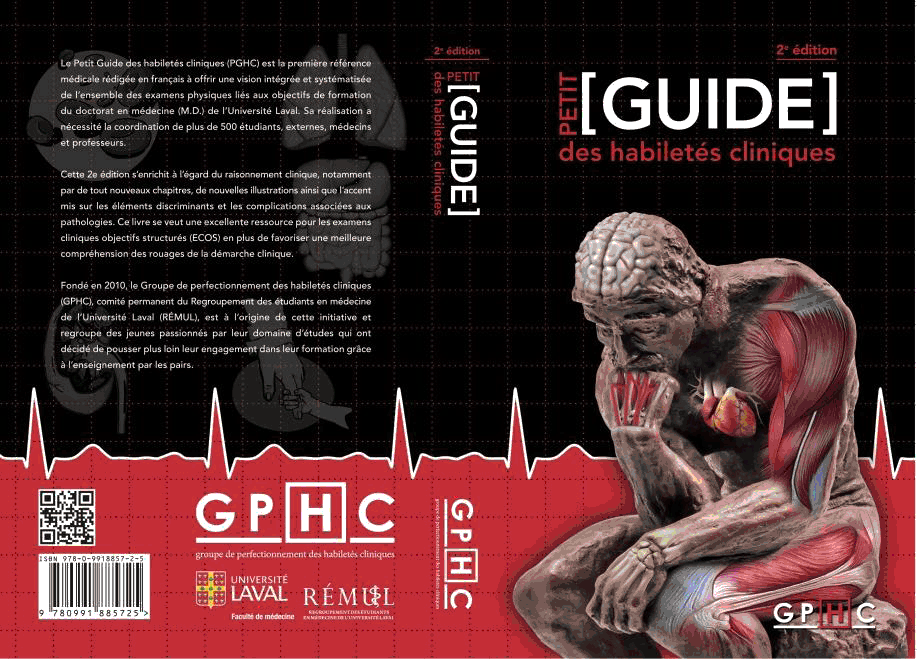 Meaningful projects create united communities
Creating a synthesis is more useful if you share it with friends. Imagine if one out of four students in your school was involved in the same project. Over the years, more than 500 students of our school contributed to this work through many subcommittees (Figure 2). One led to discussion groups on clinical topics; another created an online application. Positive leadership united the students under a scholarly project that they were proud of. Here are pieces of advice taken from our experience.
Figure 2.
Over the Years, more than 500 Students of Laval University School of Medicine Contributed to this Work through many Subcommittees.
Don't reinvent the wheel
Whereas most book on OSCEs present general notions, our book emphases on pathologies affecting our population (e.g. tuberculosis in Inuit communities). It takes into account the evolution in local technologies (e.g. implementation in future editions of point-of-care ultrasound findings) and uses frameworks already presented in previous courses, hence familiar to students. Evolving to answer students' needs, we added a section on hypothesis-driven clinical examination focusing on discriminative findings, short clinical scripts and pitfalls.3-5
The added value of involving senior students and faculty
More than 40 faculty members and clinicians helped review the chapters, giving us a unique opportunity to learn from them outside class. It is essential that the content be reviewed with content experts but also with the mentorship of clinicians who guided us in what is common, uncommon, or a 'do-not-miss'.6 Senior students and residents provided insightful comments regarding which format and content would be useful on the ward (Figure 3).
Figure 3.
In this Example of the Hypothesis-Driven Clinical Examination Section, Vertigo is Categorized in Three Tables Displaying the Discriminating Findings of the History and Physical Examination.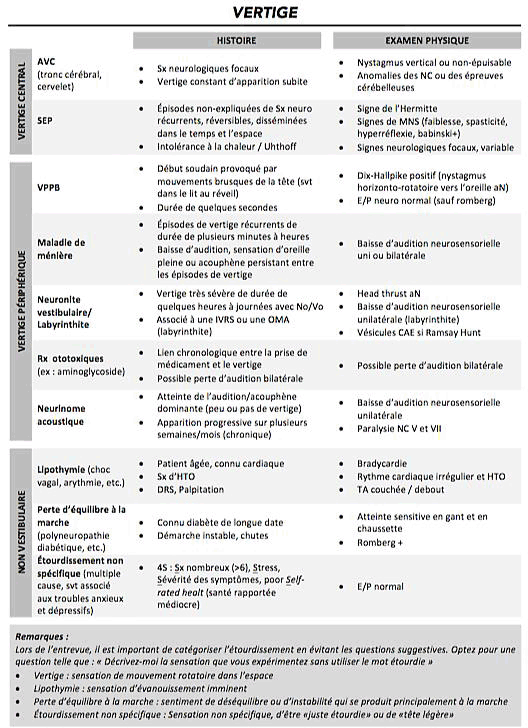 You don't need to be a professional editor to publish a book
You might think that editing a book or an application is out of reach for medical students. On the contrary, software for editing is getting simpler and high-quality printing is affordable. We did not involve professional editors and distributed our books in collaboration with medical faculty bookstores. As a non-profit organization, we were able to finance new projects. All students and faculty worked as volunteers.
Have a strong leadership but don't play solo
Based on our experience, we suggest a group of less than four editors-in-chief, in order to have a clear perspective of the project's purpose and to ensure the standardization of all chapters. The editors-in-chief divided the work among chapters' authors. Chapters' authors created groups of students with an interest in the discipline. Students saw the advantage of getting to know the clinicians of this discipline and learn from their clinical experience. Involving lecturers was worthwhile to create links with the content and format of the courses. Throughout the final steps of the editing, we hired a company for the linguistic review and ultimately, before printing and publishing, professional graphists helped us by working on the cover and interior design in creating a good-looking and easy-to-use book.
To teach is to learn
Many hours were invested in discussing, synthetizing and reviewing relevant medical content. Those who learned the most were obviously the medical students who created the books. We believe it had an educational impact that would have been harder to achieve if the Faculty would have imposed this project. Medical students already spend hours making synthesis and studying.? Why don't you turn this into a collective educational innovation in your school too?
Figure 4.
More than 40 Faculty Members and Clinicians Helped Review Chapters like this One on Respiratory Medicine.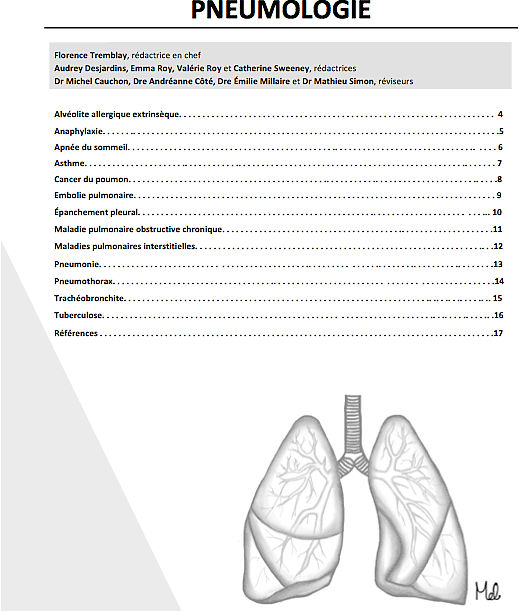 Acknowledgments
We thank the executive committees of Groupe de Perfectionnement des Habiletés Cliniques, participating students and residents and faculty members of Université Laval Faculty of Medicine who contributed to the Guide Pratique des Habiletés Cliniques first and second editions. This article was written with the support of the QMA-CMA-MD Educational Leadership Chair in Health Professions Education at Université Laval.
Conflict of Interest Statement & Funding
The Authors have no funding, financial relationships or conflicts of interest to disclose.
Author Contributions
Conception and design the work/idea. Write the manuscript. Critical revision of the manuscript, Approval of the final version: MA, AL, ER, AL, CV.
References
1.Harden RM. Revisiting 'Assessment of clinical competence using an objective structured clinical examination (OSCE)'. Med Educ. 2016 Apr;50(4):376–9.
2.Groupe de Perfectionnement des Habiletés Cliniques. [Pocket guide of clinical skills]. Petit guide des habiletés cliniques. 1st ed. Québec: CPHC; 2013. French.
3.Shikino K, Ikusaka M, Ohira Y, Miyahara M, Suzuki S, Hirukawa M, . Influence of predicting the diagnosis from history on the accuracy of physical examination. Adv Med Educ Pract. 2015 Feb 20:6:143–8.
4.Lafleur A, Laflamme I, Leppink J, Côté L. Task Demands in OSCEs Influence Learning Strategies. Teach Learn Med. 2017 Jul-Sep;29(3):286–295.
5.Nishigori H, Masuda K, Kikukawa M, Kawashima A, Yudkowsky R, Bordage G, . A model teaching session for the hypothesis-driven physical examination. Med Teach. 2011: 33(5): 410–7.
6.Uchida T, Farnan JM, Schwartz JE, Heiman HL. Teaching the Physical Examination: A Longitudinal Strategy for Tomorrow's Physicians. Acad Med. 2014 Mar;89(3):373–5.
7.Al Kadri HM, Al-Moamary MS, Elzubair M, Magzoub ME, AlMutairi A, Roberts C, . Exploring factors affecting undergraduate medical students' study strategies in the clinical years: A qualitative study. Adv Health Sci Educ Theory Pract. 2011: 16(5): 553–67.
---
Mathieu Allard, 1 Medical Student, Faculty of Medicine, Laval University, Quebec, Canada
Alexandre Lafleur, 2 M.D., M.Sc.(Ed.). Co-Chairholder of the QMA-CMA-MD Educational Leadership Chair in Health Professions Education. Vice-décanat à la pédagogie et au développement professionnel continu, Faculté de medicine, Université Laval. Assistant Clinical Professor of medicine, Département de médecine, Faculté de medicine, Université Laval. General internist, CHU de Québec
Elizabeth Richard, 1 Medical Student, Faculty of Medicine, Laval University, Quebec, Canada
Annick Lebouthillier, 1 Medical Student, Faculty of Medicine, Laval University, Quebec, Canada
Cédric Vailles, 1 Medical Student, Faculty of Medicine, Laval University, Quebec, Canada
Mihnea-Alexandru Găman, Editor
About the Author: Mathieu Allard is currently a fourth year medical student at Laval University in Quebec city, Canada. He is a recipient of the Alain Cloutier award in clinical leadership. The Groupe de Perfectionnement des Habiletés Cliniques received multiple scholarships, including the AVENIR santé award.
Correspondence: Alexandre Lafleur, M.D., M.Sc.(Ed.), Address: Faculté de Medicine, Université Laval, 1050 Avenue de la médecine, Pavillon Ferdinand-Vandry, Bureau 2552, Université Laval, Québec, QC, Canada, G1V0A6, Email: alexandre.lafleur@fmed.ulaval.ca
Cite as: Allard M, Lafleur A, Richard E, Lebouthillier A, Vailles C. How Medical Students Edited an OSCE Study Guide and Why Should You?. Int J Med Students. 2018 May-Aug;6(2):78-82.
---
Copyright © 2018 Mathieu Allard, Alexandre Lafleur, Elizabeth Richard, Annick Lebouthillier, Cédric Vailles
This work is licensed under a Creative Commons Attribution 4.0 International License.
---
---
International Journal of Medical Students, VOLUME 6, NUMBER 2, September 2018